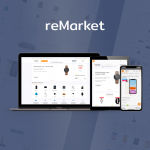 ​
ReMarket is a versatile template with a unique, lightweight and minimalist design, thoughtful UI/UX, and a useful mobile version. The template is made in the best traditions, taking into account the current needs of the market, this applies to both functionality and performance.
Supported versions of Opencart\Ocstore: 3.0
The template contains the trends and the most necessary functions that popular online stores have acquired in recent years.
More than 200 settings and 30+ modules will help you quickly and easily customize your online store for almost any need.
Şablon dosyaları kodlanmamıştır ve ionCube'un çalışması gerekmez. Bu, sizin veya geliştiricinizin şablonun işlevselliğinde zorlanmadan değişiklik ve değişiklikler yapabileceğiniz anlamına gelir. Şablon kodu tamamen geçerlidir ve arama motorları için mükemmel şekilde optimize edilmiştir.
DEMO Link :
ReMarket Demo
İnstalation :
İnstal Documents